Honey Cake is a favorite family tradition in our house.  That is because my grandmother, Mary Kleinhandler, managed to survive the Holocaust and continue on to create a loving life worth living.  Here is her famous recipe (with a few edits) for Honey Cake that she remembered from her childhood in Poland before the war.   It is always a hit at our house.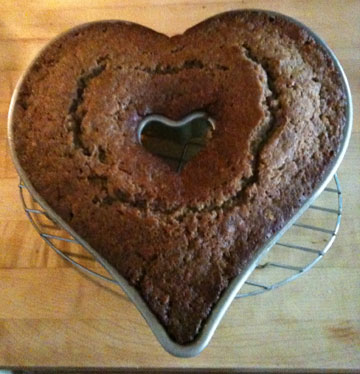 Grandma Mary Kleinhandler's Famous Honey Cake:
2.5 Cups of Flour
1.5 tsp baking powder
1 tsp baking soda
2 tsp cinnamon
1/4 tsp nutmeg
2 tsp cocoa or instant coffee
1 tsp salt
1 cup sugar
1 cup honey – local, raw and organic preferred
4 eggs
1/2 cup water or orange juice (I've used coffee)
1 orange grated (I cut the top and bottom off and grate most of it– skin, seeds everything!)
1 1/4 cup oil
*Add raisins, shredded carrots, or dates– optional
Mix dry ingredients until there are no streaks.  In a separate large bowl blend the wet ingredients.  Slowly add the dry  mixture to the wet.  Blend well.  
If you are using a round pan with a removable bottom, line it with waxed paper.  Otherwise grease a bundt cake pan.
Bake at 350 for 50 – 55 minutes.  Cool and remove from cake pan.