On Saturday June 3rd, and Sunday,  June 4, 2017, an art installation and discussions at Spark Arts Gallery in San Francisco inspired meaningful interfaith learning and dialogue among the 70 people in attendance including clergy and spiritual leaders. The Art for Prayer and Peace: A Bridge to Oneness exhibit in its current iteration upheld one of the main goals of the project: to make accessible the deep spiritual ideas in Judaism and Torah study to a wider audience–in a sharing way–so that more people could understand and practice Judaism without conversion. It also fulfilled a secondary goal which was to demonstrate in a concrete and artistic way how many of the world's major religions interfaced with and echoed each other in symbology, language, and intent.
Participating with me in the discussion on Saturday were Rabbi Danny Gottlieb of Congregation Beth Israel Judea; Elaine Donlin, Sensei of the the Buddhist Church of San Francisco, and Linda Coppleson, Torah scribe who had graciously traveled from New England to be with us. Islamic calligrapher/painter Nabeela Sajjad of Islamic Art Exhibit had also agreed to engage with the artwork and discussion of religious meanings, but unfortunately could not attend due to a family emergency. The interactions among the clergy and audience were lively and mutually enlightening as they learned from each other and shared significant correspondences among the represented religions.

(Above) Visual Aid for interfaith learning used by clergy and presented to the participants at the event.

Linda Coppleson demonstrates the art of Hebrew calligraphy on parchment
Each day, the program began with the recitation of three Ohms. We reflected on this slide (see below) and the many names of God encompassed in this primordial sound from Sanskrit–which is at least 12,000-15,000 years old. I like to set the tone for spiritual learning and deep relaxation with this ancient chanting as it opens us to receiving divine knowledge. The custom predates major religions and exemplifies how important oral traditions are in understanding God.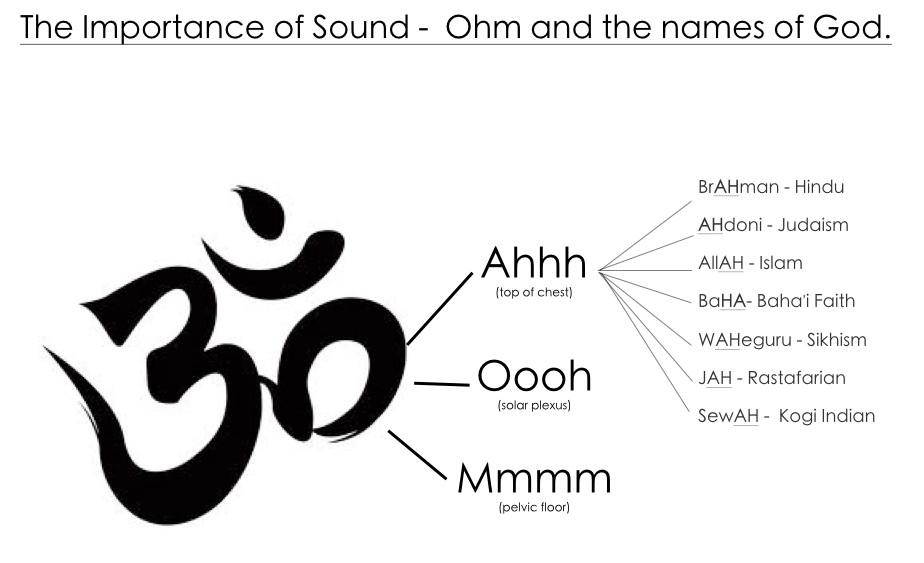 I described my odyssey in creating this installation and the art pieces in it including, the meaning of the Shin Torah Crowns, Torah Clasp, and the Comparative Amidah exhibit.
We took out the Torah and Rabbi Gottlieb and Linda Coppleson discussed Torah study, the Amidah prayer, Shavuot and the story of Ruth.  Elaine Donlin explained the Sutras, the true meaning and history of Amida Buddha. Linda Coppleson discussed the urgency of prayer expressed in the Amidah Hebrew prayer that she had scribed for this art installation. In Nabeela Sajjad's absence, I highlighted some of the knowledge I've gained about Quran study, Ramadan and Allah.

From Left:  Apollo Gerona (event guest from Congregation Beth Israel Judea), Linda Coppleson (Soferet- Torah Scribe) Rabbi Danny Gottlieb (Congregation Beth Israel Judea).

From Left:  Rev. Kobata (Buddhist Church of San Francisco), Susan Golant (co-editor of the proposal and mom of Aimee Golant), Rabbi Gottlieb (Congregation Beth Israel Judea) and Judy Carney (event guest and volunteer for the project).

These pieces stand 6.5′ tall.  The scribed Amidah in Hebrew on the left, with Amida Buddha on the right.  This art installation would be used as visual and visceral aids at the interfaith learning presentations.
Remembrance, By Nabeela Sajjad Acryllic 2015 with Shin/Shin/Shin Torah.
In closing Saturday's presentation, I shared the teachings and meaning of the mezuzah with the diverse crowd from many faith backgrounds.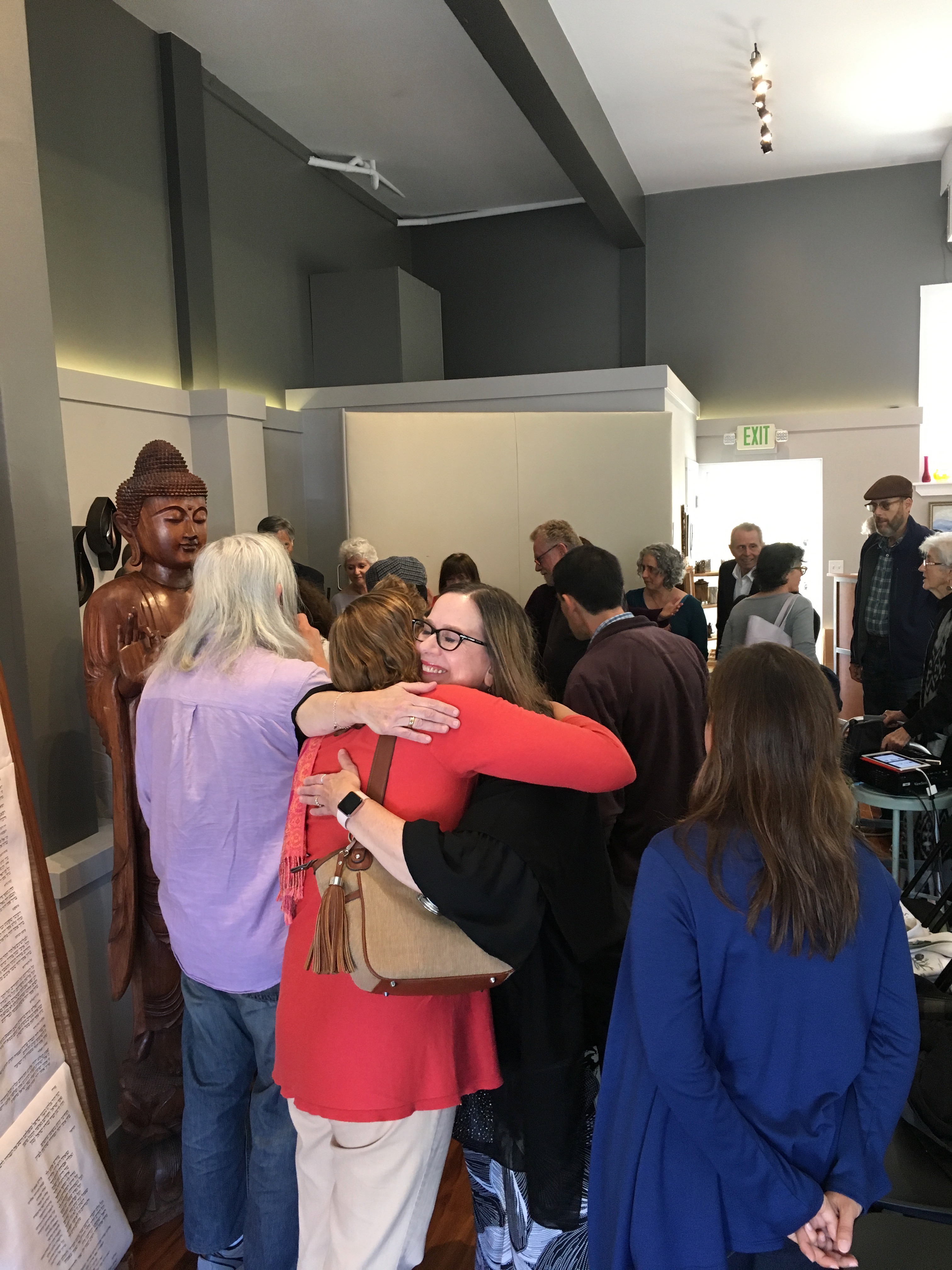 Event guests including Rev. Maggie Oman-Shannon of event underwriters Unity Spiritual Center of San Francisco.
On Sunday, I presented the history of "Art for Prayer and Peace" and a blueprint for how the finished installation would look. We discussed the entire body of work. The event culminated in a discussion of the wisdom of the native cultures of the world and environmentalism through religious interfaith art. Attendees were invited to participate in a hands-on component based on the teaching of Tikkun Olam (healing the world) and the Japanese tradition of folding 1000 origami cranes.


This slide depicts a custom of the Native Colombian Tribe Cogi– to carve space for offerings to God upon entering the pueblito.  Offerings of gold were also given to God in order to show gratitude and remain in balance with the earth.

Cherie Golant (1000 origami crane participant and Aimee's sister.)
On both days I presented on a phrase I've coined: "Shin Judaism" in which we rely on similarities, sounds, shapes and meanings in a more relaxed sense of God.


I was explaining the shapes, sounds and spiritual meanings of the letters, words, and kanji on the screen.
We also addressed the lack of Christian art represented in the project so far. We discussed the fact that Jesus's life was informed by the Torah and the Torah is preserved as part of the sacred literature of Christianity. I mentioned that some of the pieces in "Art for Prayer and Peace" could be accompanied by a corroborating statement that Jesus had made, as it pertains to the work being shown and the overall mission of the project. However, all the works in the exhibit so far have come to me, "arrived," or inspired me in some deep way. When the right interfaith Christian artists arrive, I will be sure to include them. In future exhibits, I will add a slide to my visual presentation that addresses this work as an exploration into the deeper roots of Christianity.
The events on June 3 and 4 successfully fulfilled my obligation to the donors and supporters of the work to create more religious peace and understanding by having this art and program on public display. It was the culmination of a focused, concerted effort on my part as well as that of my family, and a group of devoted core supporters (who are like family), and volunteers.
HISTORY
The idea of having a meaningful interfaith dialogue was born in me in 1989, when I traveled to Israel at the age of 16. It took many years for this vision to come to fruition, but it never left me. In late 2012, I began to act on this impulse. I reduced my teaching hours in order to create the proposal for a particular body of spiritual artwork that had been percolating in my mind since 2004–as a result of a trip to Japan. In March of 2014, after the proposal was finished and sent out, a letter of endorsement for the project from H.H. the Dalai Lama arrived. In December of that same year a letter of blessing arrived from H.H. Pope Francis. By late 2014 we had raised enough support for me to create the Shin/Shin/Shin Torah.
Shin Torah Crown (Shinto) completed October 2015
Follow up events all over the bay area ensued in places such as Temple Isaiah in Lafayette, the Unity Spiritual Center of San Francisco, and the KOH Library in Sacramento, where I showed the work in the proposal via screen presentations and the Shin Torah in progress along with my other art works for sale. More donors and volunteers arrived including architect turned curator Carol Reif. An effective appeal letter written by Claire Axelrad at the end of 2016 resulted in the funding for the scribed Amidah portion of the Comparative Amida(h) exhibit to be commissioned and created.
In December 2016, Spark Arts Gallery was recommended to me as an appropriate venue to show the work-in-progress. We chose June 3 -4th because of the correspondence of the holidays of Shavuot and Ramadan. Underwriters– Jennifer Cross Gans, Beth and Robert Sterns, and the Unity Spiritual Center got on board. Co-sponsors the Buddhist Church of San Francisco, Congregation Beth Israel Judea, Islamic Art Exhibit, The Jewish Community Relations Council, the San Francisco Interfaith Council and Spark Arts all came together to promote the event. 200 printed invitations were designed and sent out along with press releases, social media and email blasts. Further donations came in, including not just checks, but volunteers for set-up and tear down.   Free catering (as part of the celebration, Chef Alison Negrin prepared and delivered delicious and abundant food), and an onsite videographer, Pat Nugent,  documented the event.
.

Chef Alison Negrin's delicious food

In an appropriate twist, we were able to donate a portion of the leftover food from Saturday's program to a group of homeless people represented by one man– a 'rainbow juggler' who came in to admire the artwork and eat on Saturday. His homeless friends stopped by one-by-one the next morning to thank us with bows, waves and nods from outside the front window. On Sunday Peet's Coffee and Tea in the Castro District donated coffee, tea and all the accoutrements. Carol Reif sent a spread of bagels and cream cheese for the event with her daughter, Chana.

(Font) Project donor and event underwriter, Jennifer Cross Gans (Back) Spark Arts Gallery Co-Owner Angie Stitcher.
This event was successful because it provided real 'Proof of Concept' that the 'Art for Prayer and Peace: A Bridge to Oneness' project is a meaningful, relevant and powerful tool to bring communities together. The next phase could be to create a system in which the 'Art for Prayer and Peace' exhibit with educational components can be replicated in local communities by following our model or template.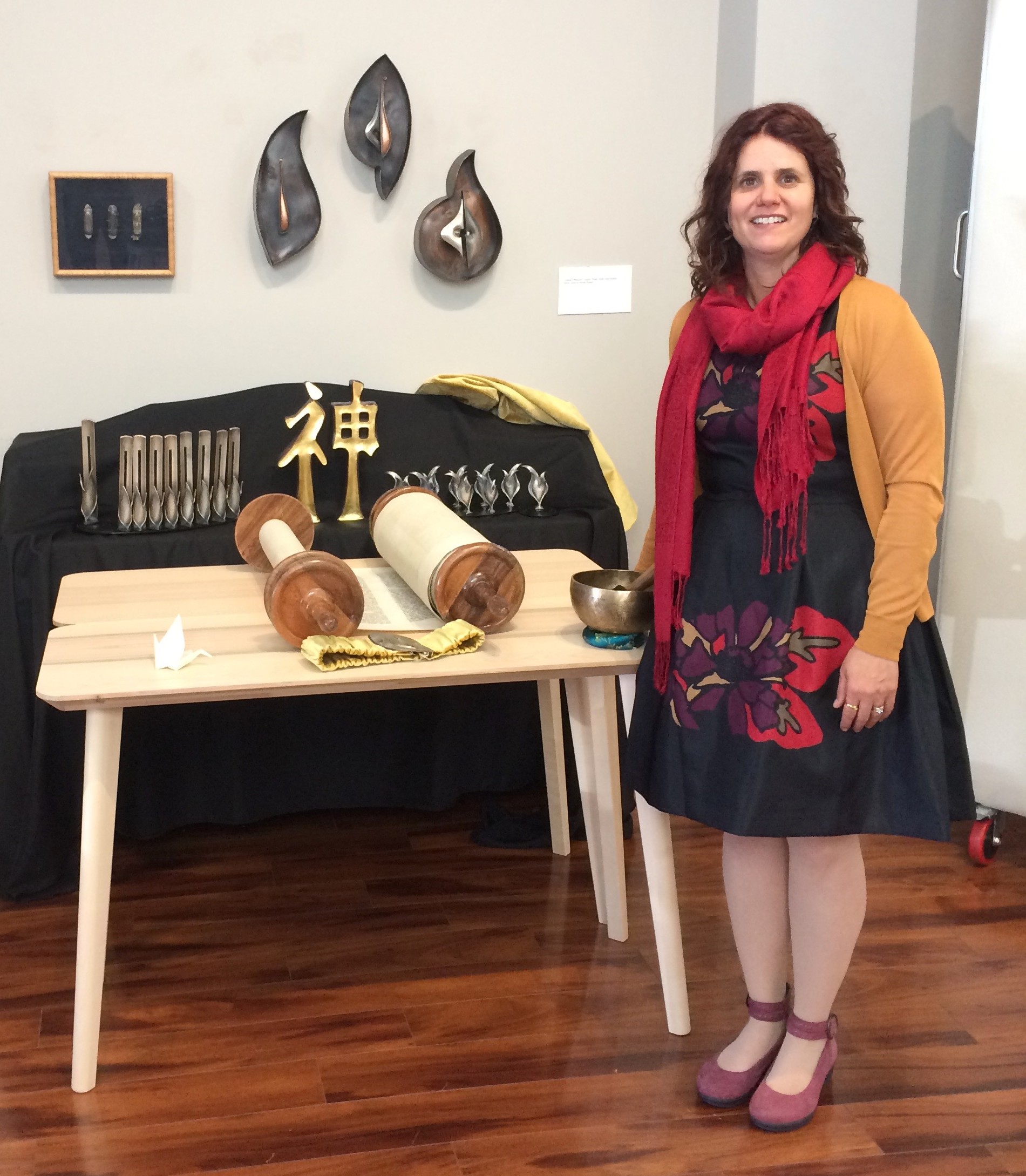 Thank you to the donors and everyone who came to Spark Arts gallery to see 'Art for Prayer and Peace: A Bridge to Oneness' in action. To view the event program visual presentation for Saturday, June 3rd please click here. To see the program for Sunday June 4th please click here. If you would like to contribute to the creation of this artwork and educational programs, please donate online here.  If you would like to see the current list of donors, scroll down.
Love,

PS: Over the next few months with the help of Pat Nugent, we will be creating a short video documentary of the event.