Dear Friends,
We are living in a time of us and them.
It's scary and easy to feel hopeless as we see history repeating itself. And not in a good way.
The polarizing tensions we're seeing in our country and the world… ignorance and narrow-mindedness…fear and violence…xenophobia and bigotry…these are not new.
But if others' memories are short, it's incumbent upon us to remember. To stand up. To act.
Many of my friends have been asking: "What can I really do?"
I'm telling them to do what I'm doing. To channel a lesson learned from my grandparents,  Holocaust survivors.  People  who despite all he endured, taught me that people fear what they don't understand. And fear can be overcome with compassion and empathy.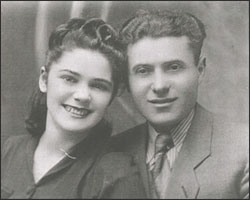 Invest in the compassionate power of art!
The arts alone give direct access to experience. – Peter Drucker
The word "art" is integral to the word "heart." Experiencing the one leads directly to the other, in ways that words alone cannot.
This is the reason I created Art for Prayer and Peace: A Bridge to Oneness – an interactive art installation/shared sacred environment that awaits your personal contribution. Will you consider a gift of $500 to connect people from different faiths and backgrounds in this safe, harmonious space? This is something you can do, right now, to begin to shine a light in the darkness.
But don't take my word for it. Let me share a letter I received recently from someone who experienced the still unfinished, already powerful, project:
Dear Aimee,
I had a lot of feelings… What really strikes me about your work is that it allows the audience to experience a very positive interaction between religions. It offers a vision of what could be possible.  The sculptures, the way they are designed, provide a space for religions to be together in a very respectful manner. 
This is wonderful. I don't know where else I have experienced that.
I think as people we understand there are important human values to uphold. But what we lack is the knowledge that these values transcend religious boundaries.
Through your sculptures it dawned on me that the work of humanity is being taken on, with great sincerity, by wonderful people from all religions.
I left the gallery with a sense of joy and hope. We are not isolated in our religious islands … your work reminds us of the language we all share. 
This provides a great role model of how religions can work together and be curious and respectful of each other. Just the presence of different representatives together is a symbol of peace and possibility.
All the best, Cristian
[I am a practicing Buddhist but had a non-practicing Jewish mother and Catholic father. My mother was in the Holocaust and all her life she tried very hard to hide her Jewish roots.]
Will you join me and Cristian in this hopeful endeavor with your gift today?
I'm so grateful for the outpouring of support that has already raised $55,000 of the $180,000 goal. Your help is needed to complete the art pieces and bring the show to more venues in the coming year. From those who've experienced the show, over and over I hear some version of "We are more alike, than different."
Wouldn't it be beautiful to spread this "aha moment" far and wide? To honor our commonalities and celebrate our differences? You can make it happen!
You see, when we learn to walk in one another's shoes, we can appreciate the humanity in each of us. Art is uniquely suited to repairing the world. Art can bring people together rather than tear them apart. Art can be the antidote to bigotry, hatred and fear.
Let's find a pathway to build understanding and empathy through art.
Will you please join me with your meaningful and thoughtful donation? Together, we will carry forward the story of hope and resilience.
With deep gratitude,


Aimee Golant
P.S. Please give today to begin healing the world – we haven't a moment to lose! Your donation is tax deductible as provided by law. Our fiscal sponsor, Fractured Atlas, is a 501(c)3 tax-exempt organization. A major gift letter, enclosed, must accompany any check donation for $1,000 or more. Or please give online here.

Above: "Remembrance Paintings by Nabeela Sajjad with Shin/Shin Torah Exhibit, San Francisco CA 2017
THE ART
This project couldn't be timelier. The art installation, into which people are invited to
contemplate the international language of G-d through ritual and contemporary art, has
been endorsed and blessed by His Holiness Pope Francis. His Holiness the Dalai Lama,
wrote it has "potential for contributing to religious harmony and peace."
The work integrates Judaism, Shin Buddhism, Shinto, Hinduism and Islam, through Japanese Kanji, Hebrew letters, Arabic calligraphy, and Sanskrit. The finished pieces include Shin Torah Crowns and Clasp with Peace Mantle, and Comparative Amida among others. Still under development are the wooden Torii Gate with Door to the Soul Mezuzah, Shehechianu/Anicca Water exhibit, the Sanskrit Fire temple with Holocaust and Genocide Memorial and more.
THE ARTIST
Originally from Los Angeles, I am an interfaith advocate and sixth generation metal artist. My work has been widely recognized through national collections (Jewish Museum of New York, National Museum of American Jewish History), local exhibitions (Legion of Honor, Oakland Museum of California) and participation in the break-through 'Women's Torah Project.' Former Jewish Museum Associate Curator Daniel Belasco highlighted my work in "Post-Ethnic Judaica Today." (Metalsmith Magazine)
This has been a 20+ year journey for me, since the day my grandfather handed me my first tool. With the help of a wonderful metal arts teacher, the idea for my first mezuzahs came into being.   They had flames, jail bars, and barbed wire on them, yet they preserved an important Jewish tradition I was able to share. In making those pieces, and explaining them to others, I felt the importance of understanding our oneness– we all breathe, we all bleed, we all experience pleasure and pain.
WHAT OTHERS ARE SAYING
We live in a time where we need to "listen" to the artists, the poets, the musicians who cause us to pause from all our single-minded justifications and to encounter the Other with a whole-hearted "yes!"  Aimee's work does just that… while creating all sorts of virtual openings for people of all faiths or no formal faith.
— Reverend Gail Doering
"Aimee and Nabeela's collaboration showed that artists of different faiths can work together, and that art can be a wonderful way of creating bridges between faiths."
— Lea Delson, Faith Trio, Interfaith Art Exhibition Curatorial Committee