These are sad times indeed.    I am so fortunate to be alive and able to work from home right now.  I really want to give to people less fortunate than me.  I believe that if I (along with all of humanity) gives in the way they are able— there will be balance in the world.  In Judaism, this concept is called Tzedakah — which is the Hebrew word for Justice. 
Unsure of how to proceed with my annual Mother's Day Sale during these difficult times–  I polled my email list of people to see whether they would rather receive 20% off items on my website, 20% donation to the food bank or 10% off and 10% to the food bank.
45% felt that they'd prefer the donation to the food bank,
40% said they'd like the 20% off discount
15% liked the split option–Since the first two choices were so close, I decided to give people a choice.  They had one day to order and either use the coupon, or I would make the donation.  By the end of the day on April 29th, 2020,  326 meals had been donated to the SF Marin Food Bank!  As sad as it is that all this is happening, I was so glad to help people in need through my art.  What a blessing you all are in my life.  I am so grateful.
Here are some of the most popular items sold:

Shin Pin in Pewter with Gift Wrap

Lotus Flower Candle Holders in Pewter

Door to the Soul Mezuzah in Bronze and 18K Gold

Free Engraving on this Unity without Uniformity Mezuzah with Kosher Scroll

Shine Mezuzah in Bronze Plate and Shalom Bayit Mezuzah in Bronze Plate (not shown.)

Copper Safety Pins to support the oppressed
Tree of Life Jewelry and Spiritual Heart Jewelry
Orders over $100 always ship for free on my website.  Some people were able to use the coupon and save on shipping.  I am always happy to support the U.S. Postal Service whenever I ship my artwork.

Right now I just finished up a custom ruby and diamond stacking set of rings in 14K rose gold for a newly solo mom.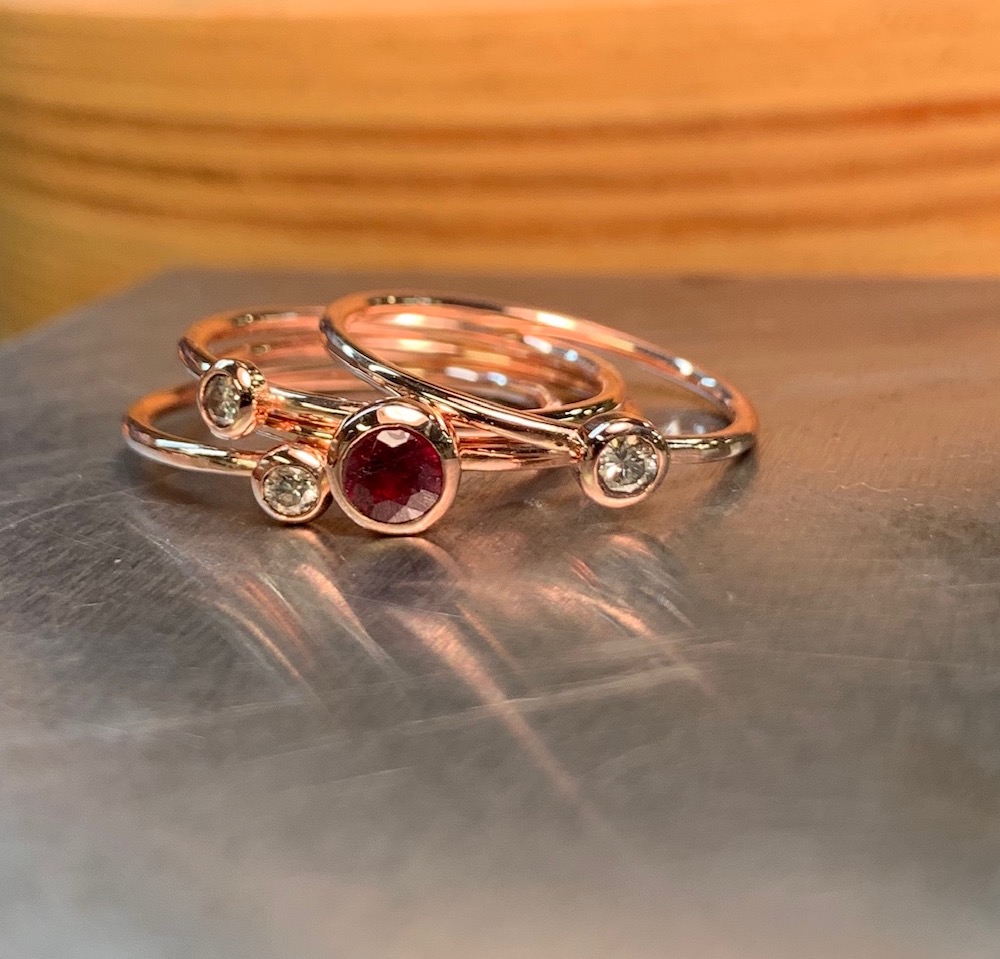 I am happy to make custom work for you.  We can discuss possibilities over the phone but first you can browse a few of my custom pieces online.  Please reach out to me with your ideas.
Thanks again everybody for supporting my artwork and for helping me donate to the food bank.  Please stay safe and healthy.
Love,