Part of my preparation for High Holy Days is making the contributions to each of the charities connected with my artwork.  I make these contributions twice per year.   Thanks to your purchases, I was able to give almost $250 to 7 different charities.  You can visit the Community Section of my website to learn more about many of the projects I have created to benefit non-profits.
See below for some of the pieces that you can buy that will result in a 10% donation to that charity.  Visit the Art for Charity Section of my website to see a more comprehensive list.
Hand in Hand K-12 are centers for Arab-Jewish education in Israel. Deeply inspired by their mission to create a shared society in Israel, I wanted to create a mezuzah case that would reflect their interfaith advocacy and be of benefit to their schools.  Read on….
10% of sales of this piece will benefit Hand in Hand K -12. 
The Women's Torah Project is the first sefer Torah scribed by women from around the world. Kadima in Seattle, a reconstructionist congregation made this dream a reality. I had the honor of creating the crown for this Torah. We also sewed the panels together (siyyum) as a community– another first.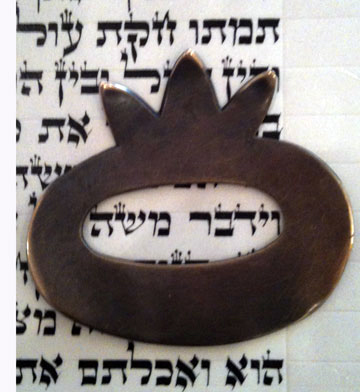 10% from the sale of this bronze Torah Aliyah Placeholder will benefit programs surrounding the Women's Torah Project.
Shalom Bayit (Peace in the Home) is a bay area non-profit organization that works to end domestic violence in Jewish homes. This commemorative mezuzah was created to celebrate their 20th Anniversary.
10% from the sale of each piece benefits Shalom Bayit.
Thanks again everybody who supported these causes through my artwork!  I can't do it without you!  L'Shana Tova!